Gallery Issues
Edit
Please provide as much information in as concise a manner as possible. This includes: A brief description, the page the issue was found on, the browser, and OS used. A date might also be helpful if you still see the error after it has supposedly been fixed. Use a <pre></pre> tag to keep formatting.
A sample entry for might be:

The thingamajig does not redirect to the whatchamacallit when clicked.
1/14/2008
http://widgets.yahoo.com
Firefox 2.0.0.11
Windows XP, SP2+
Please see the talk page for additional discussions about posted issues.
New Issues
Edit
Main Page
Edit

Spotlight and JS menus do not have backups if JavaScript support is turned off.
    Spotlight does set an HTTP GET variable, but it is not respected by the PHP page.
    "Top Rated", "New Widgets", and "Top Downloads" scroll also does not work without JavaScript support.
1/14/2008
http://widgets.yahoo.com/
Firefox 2.0.0.10
Fedora 7 Moonshine


"What's New" header text not clickable. Other "large blue" text is. Other pages across new gallery suffer same.
1/14/2008
http://widgets.yahoo.com
Firefox 2.0.0.11
Windows XP, SP2+

Individual Widget Pages
Edit

Users can give posts 2 votes, if one is a "thumbs up" and the other is a "thumbs down". Should limit to 1 total vote.
1/14/2008
http://widgets.yahoo.com/widgets/*
Firefox 2.0.0.11
Windows XP, SP2+


Updated Widgets do not show updated descriptions.
1/14/2008
http://widgets.yahoo.com/widgets/atomiccomicblast/with/history
Firefox 2.0.0.11
Windows XP, SP2+

Widget Submission (Pages)
Edit

Cannot update or view existing widgets.
The following error appears on the submission
screen: "We encountered an error while fetching
information about your Widgets. ()"
Also see image below.
1/15/2008
http://widgets.yahoo.com/submission/index.php
Firefox 2.0.0.11
Windows XP, SP2+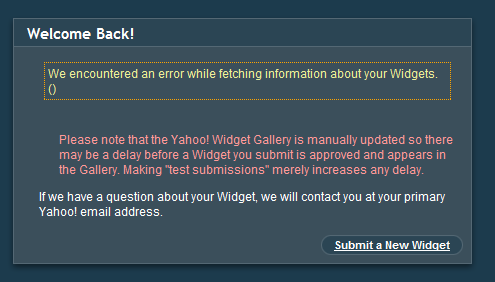 Gallery "Submit Widgets" page:
"Submit Widget" button does not have rollover effect.
1/14/2008
http://widgets.yahoo.com/submit/
Firefox 2.0.0.11
Windows XP, SP2+


Submission page should (better) note that "version history" applies to that version only. Before, it showed all previous history.
http://widgets.yahoo.com/submission/index.php
1/14/2008
Firefox 2.0.0.11
Windows XP, SP2+


Submissions Page:
Drop down still shows Widgets I had asked to have removed. (they are not visible in the gallery). Is this intentional?
1/14/2008
http://widgets.yahoo.com/submission/index.php
Firefox 2.0.0.11
Windows XP, SP2+

Other Pages (please specify)
Edit

All pages:
Severe background gradient makes outline boxes disappear.
1/14/2008
http://widgets.yahoo.com/*/
Firefox 2.0.0.11
Windows XP, SP2+


Download Page:
Black "search box" is a non-sequitur. "Get Started Now" Button has no rollover effect.
1/14/2008
http://widgets.yahoo.com/download/
Firefox 2.0.0.11
Windows XP, SP2+


Tools Page:
Top portion of page is very garbled and hard to read/understand. Consider making it more like the bottom of the page.
1/14/2008
http://widgets.yahoo.com/tools/
Firefox 2.0.0.11
Windows XP, SP2+

Issues Acknowledged by Konfabulistas
Edit
[None]
Fixed Issues
Edit

Default post sort order should be "Newest".
1/14/2008
http://widgets.yahoo.com/widgets/*
Firefox 2.0.0.11
Windows XP, SP2+

-> corrected 1/17/2008

Widget description does not seem to support formatting (new lines, etc).
1/14/2008
http://widgets.yahoo.com/widgets/*
Firefox 2.0.0.11
Windows XP, SP2+

-> corrected 1/17/2008