Slthytove's Gears, for all (or maybe just some) of your gear-related needs.
Download a Photoshop PSD of the gears here.
This was created in Adobe Photoshop 6. The shapes are created as paths, so you can resize the image to practically any resolution and you won't see any pixellation.
Here are PNG versions, if you don't have Photoshop.
Here the images are as separate files, in case you only need one gear. If you lay these on top of each other, you will get two happy gears.


SVG trace of the PSD. Created by Michael's Programming (Michael Tughan) using Inkscape.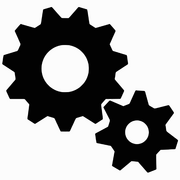 Ad blocker interference detected!
Wikia is a free-to-use site that makes money from advertising. We have a modified experience for viewers using ad blockers

Wikia is not accessible if you've made further modifications. Remove the custom ad blocker rule(s) and the page will load as expected.